City Rescue Mission of Lansing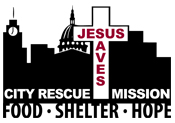 2216 S Cedar St.
Lansing, Michigan 48910

Additional Locations
607 E. Michigan Ave.
Lansing, Michigan 48912
Description
"Meeting physical needs to bring those with spiritual needs to Jesus Christ." The largest shelter in Michigan's capital area.
Services Provided
Ministry to Men
Emergency shelter, Transitional housing, Case management
Women and Family Ministries
Emergency shelter, Case management, Extended shelter (not long term), Single women (no children), Single women (with children)
Children and Youth
Senior Citizens
Specialized program for seniors
Food
Prepared meals served, Community food pantry
Jail and Prison Ministry
Educational
Job skill training programs, Employment/career readiness programs, Life skills training
Industrial
Thrift store, Recycling program
Mental Health
Medical-Dental-Eye Service
Regularly scheduled medical clinic
Chapel Services
Yes
Support Groups
Yes
Other Programs
Special needs dorm/programs
Other Services
Daily meals provided to the homeless and non-homeless; over 100,000 meals annually.