Job Search Software
NextJob is a nationwide reemployment solutions company featuring a proprietary online job search learning system. This comprehensive and easy-to-use online job search training system, covers such topics as:
Resume Writing & Cover letters

Networking

Interviewing

Job Retention

Career Direction

And many other Job Search Tools
All learning styles are covered with text, videos from real job seekers and hiring managers, audio examples of cold calls and teach-show-do exercises, including interactive résumé building, which allows job seekers to instantly apply what they've learned.
Through a partnership with AGRM, NextJob will provide each requesting AGRM member mission with up to 500 free access codes per year for use of the company's software. This will allow each mission to assist up to 500 people a year in finding employment using NextJob's system. This offer is available exclusively to member missions. By donating access to their cutting-edge, online Job Search Training system, NextJob wants to enhance the work you are already doing, giving your clients a hand up into employment.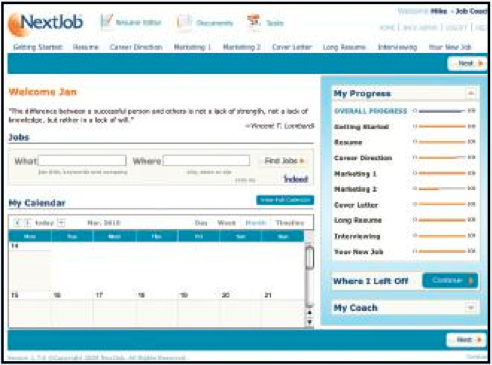 Steve Walkup, Vice President, Programs, for Denver Rescue Mission, who has begun to use NextJob's software, says, "I believe this program has all the components needed to provide the participants of our New Life and STAR programs to build a quality résumé and market themselves in the career path they desire. We are excited with the potential success of this program."
To obtain your mission's free codes to utilize this software or request a demo, contact NextJob's Mrs. Dale Falini at 719-306-3492 or via e-mail at dalef@nextjob.com.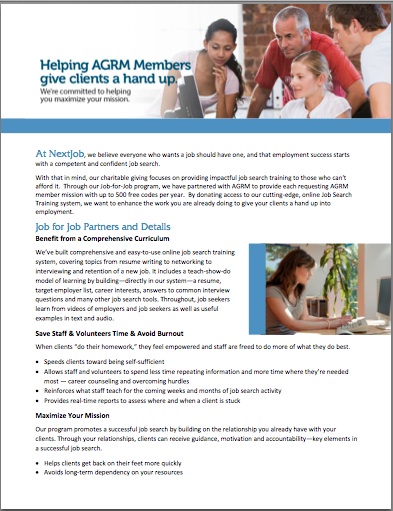 To learn more about NextJob, visit http://www.nextjob.com/giving.
To learn more about the software
donation program with AGRM, click
on the brochure graphic.