2017 Rawhide District Conference
This event is now closed.
Event Date
10/10/2017 5:00 PM -
10/12/2017 11:00 AM

Please arrive early for registration
Location
Address
1700 Rodeo Drive
Mesquite, Texas 75149
Feel the Burn
October 10–12, 2017, Mesquite, Texas
Everyone who works in Rescue is at risk of feeling the burn of burnout. We want to gather together and pause to refresh our minds, bodies, and souls. Learn strategies for self-care and stoke the flames so you can return on fire for Christ to the work He can do when we are a healthier version of ourselves! Join us in Mesquite, Texas, a suburb of Dallas and the Rodeo Capital of Texas!
Speaker: Bob Hamp
After 16 years as a counselor in private practice, Bob Hamp joined the staff of Gateway Church to develop the Freedom Ministry as envisioned by Pastor Robert Morris.

Walking into one of the fastest growing churches in America, Bob spent nine years at Gateway Church, training teachers and leaders from the lessons learned over the last decade. Nationally and internationally, Bob has begun to apply the principles learned helping individuals find freedom to helping leaders find freedom for their followers.

His unique slant on the gospel comes from approaching the scriptures searching for help for those who are hurting and power for those who are weary. Sound theology, God's healing presence, and the power of love characterize his approach to spiritual leadership.

While Bob is with us at the Rawhide District Conference. he will be speaking on topics including: The Problem Jesus Came to Solve, The Gospel of the Kingdom, and The Power of Life in Parables. He released a book titled Think Differently, Live Differently and other resources you can explore on his website at bobhamp.com.


Schedule [subject to change]
October 10
6–8pm General Session (Dinner included)
October 11
8:30–9:45 General Session
10:00–11:00 Breakout Session
11:15–12:15 Breakout Session
12:30–1:30 General Session (Lunch included)
2:00–3:00 Breakout Session
3:15–4:15 Breakout Session
5:30 Dinner Out
October 12
8:30–11:00 General Session


Breakout Session Topics:
Living the Spirit Empowered Life – Bob Hamp
Experiencing Healing – Buddy Atkinson
Taking it Easy – Buddy Atkinson
What does Revival Look Like in a Rescue Mission – Jena Taylor
Understanding God's Will for Christian Leaders – Clay Kahler
Getting Out of the Boat – Brady Daniel
The Value of Your Voice – Tom Zobel
When Ministry Kicks Your *** - Polly Hamp
Blaze: Lighting a Fire Through Your Vulnerability – Polly Hamp
Conference Lodging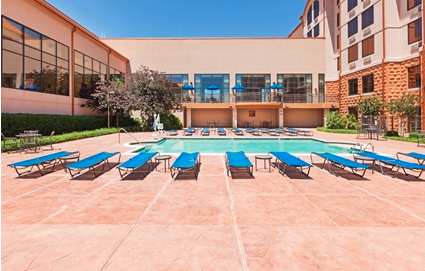 The Hampton Inn & Suites Dallas-Mesquite is located near I-635, 12 miles from downtown Dallas and 15 miles from both Dallas airports. You'll find comfortable rooms, free WiFi, a fitness center, and an outdoor pool.
Click here to view maps and directions.
Special room rates are $105 per night (single or double). Click here to make your reservations before September 20.
Your registration fee includes dinner on Tuesday; breakfast, lunch, and dinner on Wednesday; and breakfast on Thursday.
Sponsorship Opportunities
There are three levels of sponsorships available at the conference. Sponsor sign-up is located at the bottom of this page. A sponsorship or display table is required in order to attend. Please note that sponsors must be in membership with AGRM. If you plan to participate in the conference sessions and/or meals, you will need to register as an attendee in addition to purchasing your sponsorship. If you have additional questions, please email Megan Thomson, mthomson@john316mission.org.
Meal Sponsor ($700)


Address attendees during one of three meals
Place materials on attendee tables during sponsored meal
Display table during conference

Break Sponsor ($400)


Promotional materials on attendee tables during one of three breaks
Display table during conference

Display Table ($250)


Display table during conference
Cancellation Policy
If you need to cancel your registration, you may do so with no penalty up to two weeks before the event. Cancellations requested less than two weeks before the event will result in a 30% cancellation fee.
Online registration is not available at this time.