Souls Harbour RESCUE Mission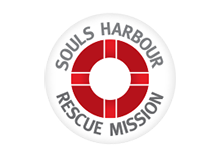 5568 CUNARD ST
Halifax, Nova Scotia B3K 4B4
Canada
Description
To RESCUE people from poverty, addiction and sin, by offering emergency help, such as food, clothing and shelter, life-changing recovery programs, and the Gospel Message.
Services Provided
Ministry to Men
Day room
Women and Family Ministries
Single women (no children), Single women (with children), Single men (with children), Married couple (no children), Married couple (with children)
Children and Youth
Senior Citizens
Food
Prepared meals served
Jail and Prison Ministry
Jail chaplain program
Educational
Industrial
Mental Health
Medical-Dental-Eye Service
Chapel Services
Yes
Support Groups
Yes
Other Programs
Other Services
Good News Chapel, a weekly street-level chapel-church for believers. This is a fully functioning church, not attached to a meal or Mission program of any kind.