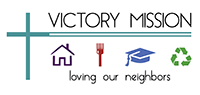 1715 North Boonville
Springfield, Missouri 65803

Description
"We are ""Eliminating poverty from the inside out.""" Victory Mission ministers to the poor and homeless in our community through Outreach programs that provide emergency shelter, meals, food and clothing; and through Education by means of our Victory Trade School, an accredited one-year certificate in Culinary Arts. In order to teach and serve we operate five social-enterprise businesses: Victory Vintage Thrift Store; Victory Lodge for Men; Recycling Warehouse, and through our Victory Trade School, the Cook's Kettle Restaurant and the Branch Bistro and Catering.
Services Provided
Ministry to Men
Emergency shelter, Long-term recovery/rehab program (urban)
Women and Family Ministries
Long-term recovery/rehab program (90 days or more)
Children and Youth
Senior Citizens
Specialized program for seniors
Food
Prepared meals served, Community food pantry
Jail and Prison Ministry
Educational
Job skill training programs, Employment/career readiness programs, Life skills training
Industrial
Thrift store, Recycling program, Other social enterprise
Mental Health
Medical-Dental-Eye Service
Regularly scheduled medical clinic
Chapel Services
Yes
Support Groups
Yes
Other Programs
Hispanic ministry, Legal clinic
Other Services
Back To School program that provides clothing and school supplies for 2500 students annually. partnerships with community groups to provide help for foster families; in-school Cents of Pride stores; neighborhood building supplies for home repair, and book fairs and student holiday parties.