Same Kind of Different as Me to be Released October 20
To learn how your mission can have a pre-release red carpet event, please visit www.pureflixevents.com.
---
AGRM PARTNERSHIP
AGRM is an official partner with Paramount Pictures on Same Kind of Different as Me. The movie, based on the New York Times best-seller, is the story of a homeless drifter who grew up picking cotton in virtual slavery; an upscale international art dealer accustomed to the world of Armani and Chanel; and a gutsy woman reeling from the wounds of betrayal, who leaned into a dream no novelist would dare to write...except it's all true.

The movie is painted on the canvas of a gospel rescue mission, with 95 percent of test audiences rating the movie UPBEAT, POSITIVE and APPEALING.

The A-list cast consists of Renée Zellweger and Greg Kinnear, as well as Djimon Hounsou, Olivia Holt, and Jon Voight.


GET THE BOOK!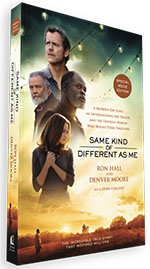 You can download a sample of the new movie edition of the book—and check out the ad that is a part of every purchased copy urging readers to get involved by volunteering at or donating to their local rescue mission!

Just click to download the sample.

Buy the Same Kind of Different as Me movie edition in bulk and save 55 percent with the AGRM discount. Contact our Thomas Nelson representative, Gary Forsythe at (615) 902-2162 or gary.forsythe@harpercollins.com.
A MESSAGE FROM RON HALL
Watch this special message from Ron Hall, the man who lived and co-wrote the story.
NEED A POWERFUL STORYTELLER AT YOUR FUNDRAISING EVENT?
Ron Hall has helped raise more than $34 million for AGRM member missions:
To invite Ron to speak at your event at a special AGRM member rate, contact AGRM's Director of Strategic Initiatives, Mark P. Fisher at (443) 907-2828 or via email at mark.fisher@pureflix.com.


WHAT MISSION LEADERS SAY ABOUT THE MOVIE


"This movie cut to the core of who we are and what we do! Show it to everyone! A must see."
—Brad Meuli, president/CEO
Denver Rescue Mission, Denver, Colorado

"Very well done—acting, directing, story-flow. Fantastic love story—very non-Hollywood. Humanizes those who are homeless."
— Jack Crowley, president
Water Street Ministries, Lancaster, Pennsylvania

"Best movie I've ever seen. Clearest presentation of Jesus and unconditional love I have ever seen"
—Larry Yonker, president & CEO
Springs Rescue Mission, Colorado Springs, Colorado

"Cried 9–10 times."
—anonymous

"It was true to the book and real story…I loved it!"
—Don Shisler, president/CEO
Union Gospel Mission of Tarrant County, Fort Worth, Texas (where the actual story took place)
QUESTIONS, REQUESTS, SUGGESTIONS
Contact Mark P. Fisher at mark.fisher@pureflix.com.