AGRM Publications
Please enjoy AGRM's many publications. If you have questions or would like to submit information to one of our publications, please email Director of Communications
Brad Lewis
.
View our most recent issues:
Street Smart
Rescue Magazine
Executive Session Blog

The Path Behind, The Trail Ahead
by John Ashmen


In Colorado, there are 54 mountains with summits that reach into the thin air above 14,000 feet. My wife, Judi, has climbed 24 of them (a few of them more than once). She's dragged me along on 19 of those treks, through rain, sleet, hail, graupel, and snow—and occasionally some sunshine.

The first reward for many early-morning hours of extreme exertion is breaking through timberline (the point at which trees stop growing). The views are terrific, both down and up.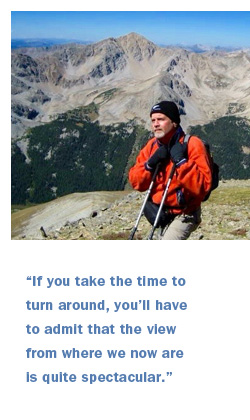 Looking down you can see how far you've climbed—a verity that the vegetation kept hidden for most of the morning. Cabins and barns have turned to mere specks. People and livestock have become imperceptible. No matter how many mountains you've climbed, the first question you invariably ask is, "Did we really come that far?"

Then, looking up toward the summit (which hopefully is not experiencing a massive cloud buildup), the second question comes: "Can we really make it that much farther?" The temperature will be dropping; the winds will be stiffening. The trail beneath your boots will have unstable stretches. Lightning strikes are a real possibility.

But despite the visible obstacles and latent risks, there is something about a summit that draws you up.

AGRM has covered a lot of ground in recent years, some of it steep. A few folks have fallen behind or have chosen another trail, but many more have joined our hiking party. If you take the time to turn around, you'll have to admit that the view from where we now are is quite spectacular. We've come a long way. And I think we all share a sense of accomplishment. But looking down the mountain and pondering the path behind doesn't get us to the top. The peak is the other direction. So we're picking up our poles, cinching our hoods, and climbing on. That's because we know that the view from the peak will be unsurpassed.

I want to use this issue of Executive Session to talk about part of the trail we'll be on in 2016. Last month, the AGRM board gave a thumbs-up to six initiatives that AGRM will be working on in 2016. You can see all six of them on the diagram. So as not to overwhelm you with words, I'll explain three of them in this issue of Executive Session and three in next month's edition.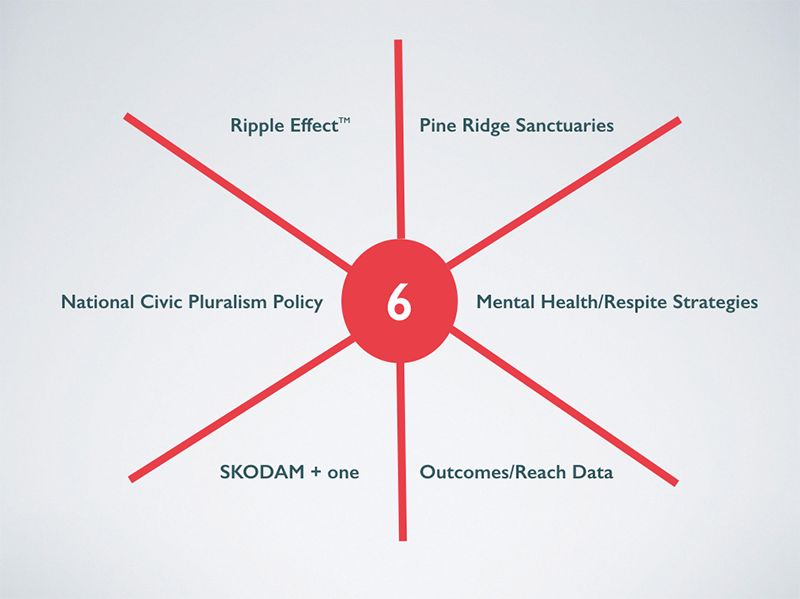 Ripple EffectTM
Overseer: Ed Morgan

In an attempt to get to the heart of where many rescue missions (of every age and size) eventually experience frustrations and sometimes-serious setbacks, AGRM has just launched a new nine-month program for key board members and CEOs. Called Ripple Effect, this very thorough program will utilize two, two-day performance acceleration events, webinars, coaches (who will make "house calls"), mentors, books, articles, document preparation and alignment assignments, and more.

Ripple Effect will not be a program where participants contemplate theory, but one where they produce relevant documents and take numerous action steps, all bringing significant advancements on multiple levels. Participating missions will even sign a commitment to governance excellence upon completion of the program. The ultimate achievement of Ripple Effect will be an association with members whose boards are unified, focused, and doing the right things the right way—and influencing those around them and those coming behind to do the same. See the ad below for some realistic outcomes. Click this link for the full description.


Pine Ridge Sanctuaries
Overseer: Selena Hayle

For three years, AGRM has been leading an effort to coordinate various ministry endeavors on the Pine Ridge Indian Reservation in South Dakota, the second-poorest society in the Western Hemisphere (behind Haiti). There has been a lot of time spent on relationship restoration and trust building, plus identifying which methods can work and which service providers will be accepted in this unique setting. The Oglala Sioux Tribal Council is now embracing the work that AGRM is doing. As one Lakota man put it, "[You] have been a strong wind on the prairie." But now we need to go to the next level.

The year 2015 has seen an epidemic of abuse and more than 200 youth suicide attempts, with about one in 10 being successful. Everyone on the reservation realizes that there is an urgency to rethink current programs and get help from outside organizations with experience. With the help of member missions in the area, we want to expedite the opening of two safe houses for women on the reservation and to see the launch of a youth safe house with a 24-hour suicide prevention-counseling program. We also want our work here to call national attention (and particularly to leaders in Washington, D.C.) to the plight of the poor on Indian reservations all over the U.S.


Mental Health/Respite Strategies
Overseer: Brooks Ann McKinney

Some of our member missions report that as many as 70 percent of the guests they see during an evening intake have mental health disorders of one kind or another. Far too many admit that they don't have procedures in place to identify and divert these people to an enhanced needs assessment unit. Moreover, they do not have trained personnel available who can recognize particular disorders. Just as many admit that they do not have relationships with medical facilities and treatment centers to which they can make referrals. One CEO told me, "We put them in chapel and then through the dinner line like everyone else, but I wish we could do something more." At AGRM we want to start having regular conversations about what "something more" looks like. We want to start building a framework and a network for recognizing and referring—and ultimately getting the proper treatment—for those entering our missions with mental health disorders. I heard one person say, "I want all of our guests to hear a clear gospel presentation, but it's hard to make a guy sit through chapel when he's convinced he's the Antichrist."

Along those same lines, we want to start talking about respite care and what missions might be able to offer in this area. A CEO recently took me on a tour of his city and showed me a tarp under which a man was living and self-treating infections from an amputation. He showed me a doorway where a woman was recovering from double bypass surgery. From site to site it was the same story. That CEO now has 28 respite-care beds at his mission to allow people to recover in quiet, sanitary conditions and get regular, proper treatment. Mental health and respite care will be woven into a lot of our member services in 2016, and even sooner. On December 7, we will have a webinar for members on this subject. Mark your calendar. More details will be out by mid-November.

Next month I'll explain our initiatives related to Outcomes/Reach Data, SKODAM + one, and National Civic Pluralism Policy. I think you'll like where we're going.

As we climb together, figuring out how to serve in a pluralistic society yet staying on course with our biblical mandates, here are the verses that the AGRM staff and board will be praying over you:
So ever since we first heard about you we have kept on praying and asking God to help you understand what he wants you to do; asking him to make you wise about spiritual things; and asking that the way you live will always please the Lord and honor him, so that you will always be doing good, kind things for others, while all the time you are learning to know God better and better.

We are praying, too, that you will be filled with his mighty, glorious strength so that you can keep going (up the trail) no matter what happens—always full of the joy of the Lord, and always thankful to the Father who has made us fit to share all the wonderful things that belong to those who live in the Kingdom of light (Colossians 1:9–12, The Living Bible).



Wouldn't It Be Wonderful?!
CEOs: Imagine looking forward to board meetings because:
There were never disagreements regarding board and staff roles.
The concept of policy governance was understood and embraced.
Most discussions would center on reaching strategic objectives.
The organization's core values were employed in decision-making.
Reliable data was always used to support proposals and theories.
Consensus was easy to achieve because polarization didn't exist.
The entire board was fully embracing its key role in fundraising.
The board's make-up was a mosaic of the city and those served.
You could count on there being no surprises during the meeting.
And you wouldn't need to have a meeting next month to rehash
things and try to finish what could have been done in just an hour.
AGRM can help you make this happen—with full board support! We're pulling out all of the stops with a new, nine-month program called Ripple Effect. We're inviting eight AGRM member missions in the Northwest District (our starting point) to participate in 2016 (and we have a couple of seats for CEOs from elsewhere in North America to audit the program). We expect the ripples to spread very quickly to other missions and other districts.
In the corporate world, a program of this kind would cost upwards of $10,000. But thanks to a generous grant from the M.J. Murdock Trust, the cost barrier for rescue missions is very easy to hurdle.

We fully believe this program will be a game changer for rescue missions—and in the coming years, rescue missions that go through Ripple Effect will be models for others in Kingdom work who want to do the right things the right way.

Click this link for more information on how to reserve your spot (if you are in the Pacific Northwest) or how to get one of the audit seats.


AGRM Membership Dues
We want to let you know in advance that there will be a small increase in AGRM membership dues in 2016. The amount is approximately 4 percent. In dollars, that is an increase of $15 on our lowest membership category (missions with yearly expense budgets under $100,000) and an increase of $170 on our highest membership category (missions with yearly expense budgets of $10 million or more). If this increase—only the second in eight years—produces some frustration on your part or will pose a hardship on your mission, don't hesitate to call AGRM Director of Operations Stacie Hughes. We'll see what we can do to help you out.



Soap Box Blog

Location May Affect Lifespan of Those Who Are Poor
New Research Tries to Find Why Poor People Live Longer in Certain Areas

For poor Americans, the place they call home can be a matter of life or death, according to an article by the Tampa Bay Times. Poor individuals in some cities—large ones like New York and Los Angeles, as well as quite a few smaller ones like Birmingham, Alabama—live nearly as long as their middle-class neighbors or have seen rising life expectancy in the 21st century. But in some other parts of the country, adults with the lowest incomes die on average as young as people in much poorer nations like Rwanda, and their lifespans are getting shorter.

According to a study published in the Journal of the American Medical Association, the gap in lifespans between rich and poor people widened from 2001 to 2014. The top 1 percent in income among American men live 15 years longer than the poorest 1 percent; for women, the gap is 10 years. But the fact that some places have increased the lifespan of their poorest residents suggests that improving public health does not require first fixing the broader problem of income inequality. Small-scale, local policies to help poor people adopt and maintain healthier habits may succeed in extending their lives, regardless of what happens with trends in income inequality.

The research is the most detailed analysis to date of a pattern first identified at least a couple of centuries ago, that more money translates into a longer life. It could be as simple as this: Wealth buys higher-quality medical care, which allows people to live into old age. But a long line of evidence suggests it is less obvious than it might seem. The affluent seem to live in healthier ways. They exercise more, smoke less, feel less stress, and are less likely to be obese. The new study, in fact, finds little correlation between a region's Medicare spending rate or the proportion of the population with health insurance and how long its poor citizens live. But public health experts who examined the results said the weak relationship did not mean that good health care had no value.

There was a much stronger relationship between longevity and obesity and smoking rates, which is unsurprising. Places where poor citizens had long lifespans also tended to have a high concentration of college graduates and high local government spending. Life expectancy for those who are poor is lowest in a large swath that cuts through the middle of the country, and it appears in pockets in the rest of the country.
Photo: Over 500 doctors have completed a three year specialization in family medicine via photopin (license)