AGRM Publications
Please enjoy AGRM's many publications. If you have questions or would like to submit information to one of our publications, please email Director of Communications
Brad Lewis
.
View our most recent issues:
Street Smart
Rescue Magazine
Executive Session Blog

FEBRUARY 2016
Light on Politics, Heavy on Patience
by John Ashmen


If nothing else, the 2016 U.S. presidential-nomination proceedings have certainly been entertaining. (Some would use the word alarming.) I have been fascinated by many of the headlines, particularly those from last week. The banners that grabbed my attention talked about huge division—one source used the phrase "major split"—in the ranks of evangelicals over who should be chosen for the top spot on the Republican ticket.
It's as if the media still expects all evangelicals to have the same perspective on politics. We all know that many evangelicals today don't even have the same perspective on matters of theology, let alone on who would make a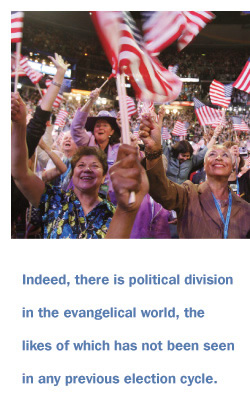 good presidential candidate. But what I think is causing such confusion in the minds of reporters and pundits this go-round is that nothing is following the predictable patterns of the past.
Jerry Falwell Jr., son of the Moral Majority founder, is endorsing Donald Trump—and even said (to the surprise of many) that "The Donald" reminds him of his late father. Meanwhile, I have numerous Facebook friends who are aghast, pointing out (ad nauseam) that Trump is a thrice-married, adulterous casino operator who says he has never sought forgiveness for his sins.
Then there are the endless (expected) articles from evangelicals who are pushing "Christian identity politics," praying that the next Commander in Chief can wrestle America back from the grip of the Evil One. But they are being rebuffed by plenty of evangelical bloggers who say that Rubio and Cruz are wrongly trying to run for president of a "Christian America" that no longer exists (if it ever did), and they won't vote for either candidate.
Meanwhile, the "Christians for Bernie Sanders" website keeps getting hits from an increasing number of evangelicals—and they are not all Millennials. Indeed, there is political division in the evangelical world, the likes of which has not been seen in any previous election cycle.
With that being the case, there are just two things I want to say in this issue of Executive Session. The first is this: Because of the work you do and whose help you need to do it, and because you are the embodiment of your mission in the minds of so many supporters and stakeholders, let 'em all have to guess where your political allegiances lie. I just heard from a rescue mission CEO back East who suspects that his impulsive repost of a link suggesting that a certain unconventional candidate was the logical choice for followers of Jesus just got him unfriended by a major donor. Ouch.
Even those of you who live and work in "red" Middle America need to be especially cognizant of the fact that it's not just the country that's pluralistic; the evangelical world is also becoming pluralistic—and very sensitive.
Two guys sitting in the stands—one has a Packers shirt on and the other is wearing a Vikings jersey—can endure each other's good-natured ribbing because they are unified by their love for the much bigger game of football. You have to wonder if the bigger objectives of the Great Commission can actually unify Christians with different political preferences these days. Say the wrong thing about a certain candidate and you can lose a friend—and they probably won't tell you, they'll just start to ignore you.
Most of you have learned how to successfully skate in the arena of politics when you're on slippery (and sometimes thin) ice with governors and mayors and city council members and those in your continuums of care. Following the strategy Jesus chose for his team of disciples to be "shrewd as snakes and as innocent as doves" should still be a worn page in your playbook—even when you are playing other Christians.
Surprisingly, in many circles it's now more acceptable to talk about the gospel than it is to talk about politics. But that's a good thing, because that's what we should be doing anyway! Jesus didn't dialogue much about politics, but he did have plenty to say about the work and will of His Father. I guess you could say that 2016 politics is constraining us to keep first things first.
The second thing I want to suggest certainly applies to politics, but it also has broader application. Here it is: It's never a good idea to get out ahead of Jesus and assume our enthusiastic efforts to put in place (or in office) what (who) we believe is right for our ministry (country) is in line with His perfect plan.
In John 6, the miracle of feeding the 5,000 turned out to be an epiphany that promptly and passionately spread throughout the hillside throng. In verses 14 and 15, it says, "Now when the people saw the miraculous sign that Jesus performed, they began to say to one another, 'This is certainly the Prophet who is to come into the world.' Then Jesus, because he knew they were going to come and seize him by force to make him king, withdrew again up the mountainside alone."
Whether motivated by passion or panic, for us to write what seems to be the appropriate lines for Jesus' leading role in our story is more than presumptuous. It's also profane. His part is already in print; we simply have to be about His work, telling His story, and declaring His values. To say this another way, we should never project our plans on Him—whether it be in national politics, ministry strategies and tactics, organizational mergers and acquisitions, or whatever—believing that they are holy imperatives because (in our opinion) they are surely what Jesus would wish for, and they work well in our timelines.
We want to see His Kingdom come, on earth as it is in heaven. What we don't want to see are the footprints of Jesus, walking away from us, up the mountainside and out of sight.
Blessed are those with a political perspective that promotes the Beatitudes. And blessed are those with the patience to let things come to pass in His time.



John's Schedule
The next three weeks for me include the following:
The AGRM board meeting in Reno, Nevada, with orientation for five new board members.
An invitation for me to address the 100-member board of the National Association of Evangelicals (NAE) in Washington, D.C., and explain in detail the work of rescue missions today and what we see coming at us on the streets (and from the halls of government).
The AGRM DC Forum, followed by an invitation to address the Washington, D.C., Rotary Club.
Your prayers for my schedule (including everything mentioned above) are always appreciated.

I'd love to see you in Washington
AGRM's 2016 DC Forum provides a great opportunity to influence government in the proper way, to make your voice heard on the issues without being seen as political. You still have time to register and get a flight. Rhett Butler has put together a great program, including a first-ever meeting at HUD. Here is what the event is all about, what we will be doing, and how to sign up.

An Annual Convention price break is about to disappear
On March 1, the fee for our big annual event goes up a bit. Have your team members get their registrations in this week to save money. Our registration numbers are keeping pace with last year's record number. There are many reasons not to wait too long to sign up. Here is how to do that.



Soap Box Blog

U.S. Median Household Income Increases for Third Consecutive Year
Map Shows How Your State Compares to the National Average
Real median household income in the U.S. showed a statistically significant increase between 2014–2015 reports the U.S. Census Bureau.

The American Community Survey (ACS) is a nationwide survey designed to provide communities with reliable and timely demographic, social, economic, and housing data for the country, states, congressional districts, counties, places, and other localities every year. It has an annual sample size of about 3.54 million addresses across the United States and Puerto Rico and includes both housing units and group quarters (e.g., nursing homes and prisons).

The 2015 U.S. median household income was $55,775, 3.8 percent higher than the 2014 median. This was the third consecutive year with a statistically significant increase in the national median household income. State income estimates from the 2015 ACS ranged from $75,847 in Maryland to $40,593 in Mississippi. Median household income was lower than the U.S. median in 26 states and higher than the U.S. median in 18 states.
Photo: [Source: U.S. Census Bureau]