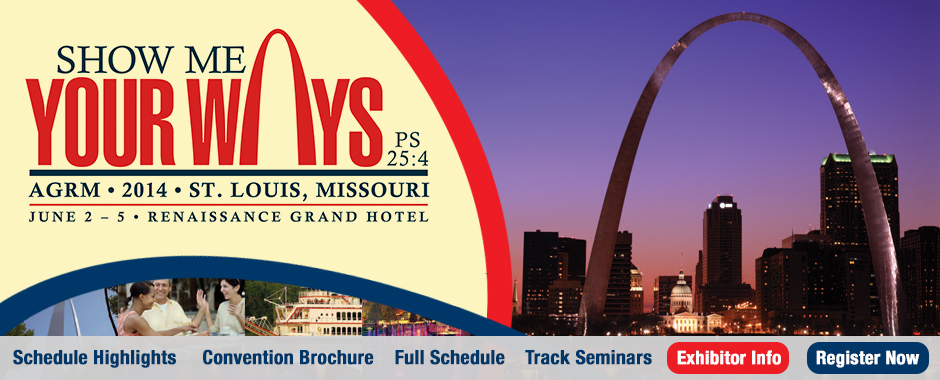 | | | | |
| --- | --- | --- | --- |
| | - By invitation only | - Food and/or beverage included | - Involves an additional cost |
SATURDAY MAY 31, 2014
2:00 p.m. - 5:00 p.m.

Registration/Tell Me Desk Open
2:00 p.m. - 5:00 p.m.

SOLD OUT! Cross Missouri Discovery Excursion

Come and enjoy a leisurely train ride from the Mississippi to the Missouri. We'll pull out of the St. Louis station at 4:00 p.m. Enjoy Show Me State scenery on your way to Kansas City. Rest up. Finish a book. Visit with friends. Snack in the café car. The train arrives at 9:30 p.m.

Upon arrival, you'll be met and escorted to overnight accommodations. In the morning, enjoy breakfast, a worship service, and then tours of City Union Mission and Kansas City Rescue Mission. After some famous KC barbecue, we'll visit the National World War I Museum before heading back. The train arrives back in St. Louis at 9:30 p.m. on June 1.


SUNDAY JUNE 1, 2014
All Day

Meet Me in St. Louie

Come to town early for a full day of pre-convention fun. The NL champion Cardinals will be playing the Giants at 1:15 p.m. Get your tickets at any online discounter, such as StubHub. Following the game, it's a short walk over to the Gateway Arch, where you can take a scenic cruise on a 19th-century paddle wheel replica. Have dinner at one of the trendy new restaurants along Washington Avenue. Many of the establishments have live music. There's much to do in St. Louis, so plan now to meet your AGRM friends early and take in the sights, sounds, and tastes.
10:00 a.m. - 8:00 p.m.

Registration/Tell Me Desk Open

3:00 p.m. - 4:15 p.m.

Certification Consultants Meeting

4:45 p.m. - 6:00 p.m.

Insurance Committee Meeting

7:00 p.m. - 8:30 p.m.

Sunday Night Service

We are putting a major emphasis on prayer at this convention, with many sessions devoted to prayer and with prayer intercessors present throughout the event. To get us focused in this matter, our evening speaker (for all of those coming early) will be Phil Miglioratti, COO of the Mission America Coalition and national coordinator of Loving Our Communities to Christ. Come early and fellowship with your peers.
MONDAY JUNE 2, 2014
7:30 a.m. – 6:30 p.m.

Registration/Tell Me Desk Open
8:30 a.m. - 9:45 a.m.

Faithful Friends Breakfast

If you are a current donor to AGRM, you will receive an invitation to attend this appreciation breakfast. Following some great fellowship around a filling breakfast, you will get a sneak peek at some of the exciting new initiatives that AGRM will be launching this year.
10:15 a.m. – 1:15 p.m.

"Frog-Eating" Workshops

The $59 cost includes the class and lunch.
Time-management experts say that the overwhelming project you don't want to tackle or the big subject that you don't want to address is like an ugly frog. To avoid it, we elevate the priority of everyday tasks. Meanwhile, the frog sits on each of our desks, staring us down and occasionally croaking. Those same experts say that the best leaders among us are the ones who start each day by "eating the frog." So that's what we're going to do

—

figuratively speaking, of course. Here are the croakers:


Rethinking How You Present Christ in Your Mission


...without Compromising Your Convictions




Instructors: Darryl Bartlet, Terry Pallas, and David Treadwell

The post-Christian culture of today requires us to consider new approaches to sharing the timeless gospel. Discover the creativity some missions are employing to teach about and practice prayer, evangelism, and discipleship, and how these ideas are making a positive impact on guests, staff, and volunteers.

Extending Radical Hospitality to LGBT Guests

...without Violating the Law and Your Conscience




Instructors: John Ashmen and Jon Ruybalid

Gender confusion is confusing a good number of our missions these days. And gay marriage, rapidly becoming the law of the land, is already bringing about policy changes in some ministries that have family shelters. Learn the facts about the changing legal landscape and determine appropriate responses for your ministry in light of both new regulations and Scripture.

Restructuring Your Organization for Better Protection

...without Confusing Your Donors and Key Stakeholders




Instructor: Bob Brown

In a litigious society like ours, one absurd lawsuit can take away property and assets that took years to build and accumulate. Learn about campus preservation through the establishment of legacy funds and limited liability corporations. This seminar could be the most important class you'll attend this year.

Moving into Planned Giving in a Big Way

...without Pulling Resources away from Your Direct Mail Initiatives




Instructor: Joseph Padilla

The current donor landscape requires that we concentrate much of our efforts on seeking bequests, charitable gift annuities, charitable remainder trusts, and non-cash assets. Even if you don't have a large development office, this seminar will explain the terms and possibilities, and give you the tools to immediately engage.
10:15 a.m. – 3:15 p.m.

"Intensive Institute" for New Missions

If your rescue mission is just getting started—or if your mission has been around for a long time but you are new to rescue mission ministry—this five-hour session is just what you need. We have four time-tested veterans from within the association (Phil Altmeyer, Rick Alvis, Selena Hayle and Rex Whiteman) who will help you not only get the right answers, but also learn what questions to ask.
1:45 p.m. – 2:30 p.m.

District Meeting and Convention Orientation

Gather by districts to learn what's in store for the week and who's here from your part of the continent.
3:00 p.m. – 4:30 p.m.

CEOs-Only Exhibit Hall "Hard Hat" Tour

Executive directors and presidents—the ultimate decision makers—get the first glimpse of the exhibit hall. Don the hard hats and steel-toed shoes and be the first to see and hear everything that's happening in the business sector surrounding the association.
4:00 p.m. – 9:00 p.m.

Convention Bookstore Open
6:00 p.m. – 8:45 p.m. (Doors open at 5:40 p.m.)

General Session I

A lot of people come to AGRM conventions just for the amazing general sessions. At our first one we'll have dinner and be greeted and encouraged by Robert Loggins. We'll also be led in worship by Dan and Sandy Adler and Heart of the City, plus have an off-the-chart challenge from Lee Strobel. In between, we'll have our great from-the-floor networking, special presentations, and relevant videos.
8:45 p.m. – 10:00 p.m.

Exhibit Hall Grand Opening

Cap off the general session by making new friends and getting new ideas in the aisles of our always-enjoyable exhibit hall. Oh, and did we mention dessert will be served?
10:00 p.m. – 11:00 p.m.

LateNite Showing

Watch the YouTube movie @home that was shot and produced by homeless advocate Mark Horvath; then engage Mark about his work and his outlook on the issues that are shaping poverty in North America.
TUESDAY JUNE 3, 2014
7:00 a.m. – 7:30 a.m.

Prayer Closets Open

We will have eight small rooms throughout the hotel where members can get up early and gather with peers to pray. Each prayer closet will have a different, specific prayer focus.
7:00 a.m. - 6:30 p.m.

Registration/Tell Me Desk Open
7:30 a.m. – 9:00 p.m.

Convention Bookstore Open
9:45 a.m. – 10:45 a.m. (Doors open at 9:25 a.m.)

General Session II

This morning's general session features another helping of networking and association announcements and honors, plus Dan and Sandy Adler and Heart of the City. In addition, Lynda Randle—whose distinctive alto voice will touch your soul—will spend the whole day with us. The always-engaging Jimmy Dodd will open God's Word and deliver challenging insights.
11:00 a.m. – 2:00 p.m.

Exhibit Hall Open
12:00 p.m. – 1:00 p.m.

Exhibit Hall Lunch
2:00 p.m. – 3:15 p.m. (Doors open at 1:40 p.m.)

"Town Hall" Meeting

Everybody is invited to this plenary session that will feature addresses by NAEH CEO Nan Roman and homeless advocate Mark Horvath. You will then have opportunity to ask questions of a panel of special guests from every facet of government and the faith-based community. There definitely won't be an after-lunch lull today!
6:00 p.m. – 8:45 p.m. (Doors open at 5:40 p.m.)

General Session III

We'll lead off this jam-packed evening with dinner and then some rapid-fire networking. Lynda Randle will be back, as will the Adlers and Heart of the City. Our speaker is one of the most-requested-to-return platform guests from the past seven years, Matt Heard. This will be an evening to remember. During this session, AGRM President John Ashmen will give a state-of-the-association presentation. Members will be asked to contribute to AGRM's future in a number of ways.
8:45 p.m. – 10:00 p.m.

Exhibit Hall Open

There's more activity in the exhibit hall for those who didn't get enough networking in the general session. Come by for dessert and connections.
10:00 p.m. – 12:30 a.m.

LateNite Showing

Tonight we will be screening Gimme Shelter, the story of a 16-year-old homeless runaway, based on a true story. Vanessa Hudgens plays the lead role of Apple Bailey.
WEDNESDAY JUNE 4, 2014
7:00 a.m. – 7:30 a.m.

Prayer Closets Open
7:00 a.m. – 7:45 a.m.

AGRM Board Meeting
7:00 a.m. - 6:30 p.m.

Registration/Tell Me Desk Open
7:30 a.m. – 3:00 p.m.

Convention Bookstore Open
9:45 a.m. – 10:45 a.m. (Doors open at 5:40 p.m.)

General Session IV

Jimmy Dodd and Matt Heard are splitting the time this morning, bringing follow-up thoughts to their messages of yesterday. You will certainly get a double blessing. Dan and Sandy Adler and Heart of the City will again lead us in worship.
11:00 a.m. – 2:00 p.m.

Exhibit Hall Open
12:00 p.m. – 1:00 p.m.

Exhibit Hall Lunch
6:00 p.m. – 7:30 p.m.

Sounds of St. Louis Receptions

Pick up your tickets at the Tell Me Desk for one of three venues where you will enjoy a walk-around reception of heavy hors d' oeuvres in a distinct St. Louis atmosphere with live music. You can choose an early 20th century blues club—wear your spats and bowlers! If you are more high society, don your top hat and jewelry and head to the top floor for string quartet music. If neither of those are your cup of tea, try our '50s coffee house with open mic (we'll supply the bongos). No matter where you go, you'll be among friends. (Crashing other receptions is allowed after 7:00 p.m.)
THURSDAY JUNE 5, 2014
Note: All food and beverage for convention participants on this final day is "on your own," and can be easily obtained at hotel restaurants or establishments along Washington Avenue.
7:00 a.m. – 7:30 a.m.

Prayer Closets Open
7:30 a.m. - 11:30 a.m.

Registration/Tell Me Desk Open
7:30 a.m. – 11:30 a.m.

Convention Bookstore Open
8:00 a.m. – 9:30 a.m.

"Show Me" Sessions

The five options offered in these 90 minutes could be the most beneficial of your entire convention experience. That's because many people come away from an educational event of this magnitude without any "tools" to put in place what they've learned. So we'll gather by departments and hear what everyone has learned, and then each group will discuss—with the assistance of expert panels—how to best make the changes needed for the transference of great ideas into daily practice.
10:00 a.m. – 11:00 a.m. (Doors open at 9:40 a.m.)

General Session V

There's one more go-round with networking and whole-group interaction. Come cap off your convention experience with a one-hour general session. Giving our final exhortation will be Terry Robinson, someone who knows all sides of city ministry. To prepare us for his challenge, Randy Shaw will be behind the baby grand.
11:30 a.m. – 12:15 p.m.

Annual Business Meeting

For those who like the mechanics of governance and are interested in back-of-the-house details on the association, this final convention gathering will be right up your alley. Board members, district presidents, and staff will detail financials from last year; talk about past, current, and future member services; give expansion updates; and more. This is a great session for those who are interested in association leadership in the future.
12:45 p.m. - 2:45 p.m.

District Officers Assembly
1:00 p.m. - 4:00 p.m.

FULL! "You Are My Sunshine" Tour

The AGRM member in St. Louis is Sunshine Ministries, offering family services, men's services, and youth services. Sunshine is actually just a few blocks from the Renaissance Hotel, but we'll provide the transportation for this afternoon of exploration that starts at 1:00 p.m. and ends at 4:00 p.m. One of the features of the tour will be the brand new Family C.A.R.E. Center. Learn more about Sunshine in advance at www.sunshineministries.org.

This tour is full. Check at the Registration Desk on-site to be placed on a waiting list.

The $19 cost includes ground transportation and an afternoon snack break.