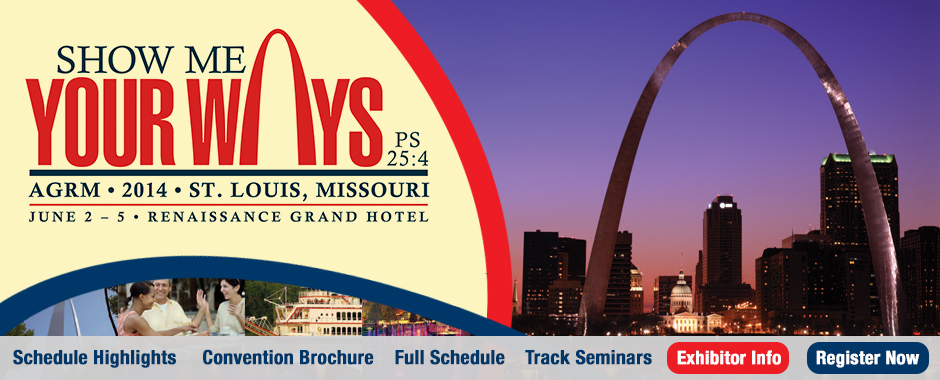 By invitation only




Food and/or beverage included




Involves an additional cost

Monday, June 2

Faithful Friends Breakfast
"Frog-Eating" Workshops
"Intensive Institute" for New Missions
Professional Network "Coffee Klatch"
CEOs-Only Exhibit Hall "Hard-Hat" Tour
General Session I
Exhibit Hall Grand Opening

Tuesday, June 3

Track Seminar 1 (Choose from 12)
General Session II
Exhibit Hall
"Town Hall" Meeting
Track Seminar 2 (Choose from 12)
General Session III
Exhibit Hall

Wednesday, June 4

Track Seminar 3 (Choose from 12)
General Session IV
Exhibit Hall
Track Seminar 4 (Choose from 12)
Track Seminar 5 (Choose from 12)
Sounds of St. Louis Receptions


Thursday, June 5

"Show Me" Sessions (Choose from 5)
General Session V
Annual Business Meeting
District Officers Assembly

Phil Miglioratti

COO of Mission America Coalition/ National Coordinator of Loving Our Communities to Christ

Following a deep passion for prayer, Phil Miglioratti communicates extensively on the power of prayer and is the facilitator of the National Pastors' Prayer Network. Phil is also passionate about reaching cities with the love of Christ, serving on the national design team for the City Impact Roundtable and acting as the National Coordinator of Mission America Coalition's Loving Our Communities to Christ initiative.

Robert Loggins, Sr.

President of Loggins Ministries, LLC and In The WORD Ministries

Anybody in ministry in St. Louis knows Robert Loggins, Sr., a sought- out advisor for all urban initiatives in the region. He is the prayer and spiritual awakening specialist for the Missouri Baptist Convention, plus president of Loggins Ministries, LLC and In The WORD Ministries. A graduate of the University of Southern Mississippi and New Orleans Baptist Theological Seminary, he's presently in the Doctor of Ministry Program at Midwestern Baptist Theological Seminary in Kansas City, Missouri. A powerful Bible expositor, Bob is also a Bible professor, pastor, missionary, and church planter, and a networker of ministry initiatives in the greater St. Louis area.

Mark Horvath

Popular advocate for the homeless and founder of Invisible People

Mark Horvath is a contributor on homelessness and related issues to the

Huffington Post

, which describes his work this way: "Everyone talks about social media's potential to democratize and empower those less fortunate. Mark actually makes that happen." Mark, or @hardlynormal as the Internet knows him, is an internationally recognized activist who tells the story of the countless individuals without a voice—those living in shelters, motels, tents, alongside streets, and under highway bridges. His platform,

InvisiblePeople.tv

, is one of the most revolutionary and poignant storytelling destinations on the web.

Lee Strobel

Best-selling Christian author, speaker, and apologist

Atheist-turned-Christian Lee Strobel is a

New York Times

best-selling author of more than 20 books. Lee, with a journalism degree from the University of Missouri and a Master of Studies in Law degree from Yale Law School, was the award-winning legal editor of the

Chicago Tribune

. Described in the

Washington Post

as "one of

the evangelical community's most popular apologists," Lee's work has won four Gold Medallions, including his books

The Case for Christ, The Case for Faith, and The Case for a Creator

, all of which have been made into documentaries. His latest works include his first novel,

The Ambition

, and

The Case for Christ Study Bible

.

Matt Heard

Pastor, speaker, author

Former senior pastor of the 5,500- member Woodmen Valley Chapel in Colorado Springs, Matt Heard is one of North America's most gifted teachers and communicators of biblical truth. He is a graduate of Wheaton College and Reformed Theological Seminary, and was previously president of Grand Rapids' Vantage Point Forum, a transformational teaching, speaking, and consulting ministry. He also served as pastor of singles and evangelism at Moody Church, and then founded Park Community Church, a multi-campus fellowship on the near North Side of Chicago. His new book, Life with a Capital L, will be released by WaterBrook Multnomah in the fall.

Jimmy Dodd

Founder and president of PastorServe

After 20 years of serving as a pastor, Jimmy formalized his ministry to other pastors in 1999 by founding PastorServe. Jimmy has a deep love for the local church, and PastorServe provides the perfect vehicle to follow God's extended call to serve the broader church at large. Through his work with Missouri-based PastorServe, Jimmy is part of both a crisis response team and a disaster prevention team for the Kingdom by providing support, direction, and counseling to ministry leaders. A well-known and respected speaker, Jimmy is a graduate of Wheaton College and Gordon-Conwell Seminary.

Nan Roman

President and CEO of the National Alliance to End Homelessness

When she is not on the road inspiring people to make solving homelessness a priority, Nan Roman is busy leading the National Alliance to End Homelessness (NAEH). NAEH is a public education, advocacy, and capacity-building organization with more than 10,000 nonprofit and public sector member agencies and corporate partners across the country. Nan, who received her bachelor's and master's degrees from the University of Illinois, has more than 20 years of local and national experience in the areas of poverty and community-based organizations.

Terry Robinson

City director, Detroit inner city ministry of Cru

Handling one of Cru's toughest assignments, Terry Robinson heads up the Motor City chapter of the inner city ministry of Cru, the new name for Campus Crusade for Christ in the U.S. A gifted speaker and counselor, Terry has a Master of Divinity degree from Moody Theological Seminary. In addition to his Cru duties, he is also the minister of discipleship and Kingdom expansion at the Tabernacle Missionary Baptist Church, where he works to mobilize the church to live out God's heart for the poor.
2014 Worship
Dan and Sandy Adler

Heart of the City
Worship Band

Lynda Randle

Randy Shaw

RENAISSANCE ST. LOUIS GRAND HOTEL

Our convention headquarters in St. Louis is the Renaissance Grand Hotel. It's situated in the heart of downtown amongst upscale Washington Avenue restaurants, nightlife, and other attractions. The landmark Gateway Arch is just a few blocks away.

The Renaissance Grand blends unique amenities with classic style, from the opulent lobby to the tastefully decorated sleeping rooms (with plush bedding). And there's an indoor pool! For our meetings, the hotel boasts more than 50,000 square feet of meeting space, including the Majestic Ballroom and the Crystal Ballroom, with stunning city views.

Update! The Renaissance Grand is sold out. However, AGRM has secured a block of overflow rooms at the Drury Inn & Suites, within easy walking distance to all the exciting activities of the convention. The Drury rate of $129.95 per night includes breakfast each morning of your stay.


To make reservations at the overflow hotel, call (800) 325-0720. Or click here to reserve rooms online.
GROUND TRANSPORTATION
AGRM has negotiated a special convention rate with Go Best Express for one-way and round-trip transportation between the St. Louis International Airport and the Renaissance Grand Hotel. Reservations must be made online by May 28 to receive the discounted rate ($18 one way or $34 round trip per person).



To reserve a seat, please click here.