Volume 5, Number 24 • December 15, 2011 • www.agrm.org
---
This issue of Street Smart is sponsored by City Vision College.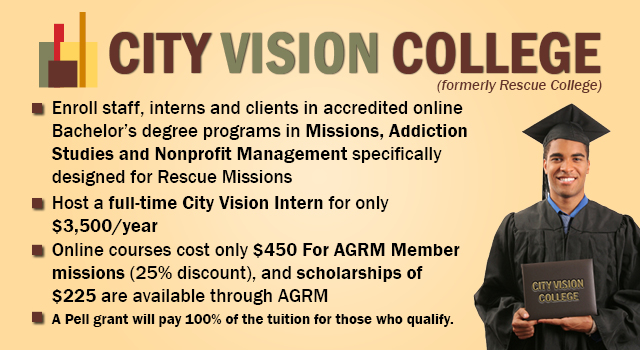 ---

Early bird convention rate ends today at midnight
Early registration for AGRM's 99th Annual Convention—which will be held May 20–23, 2012, at the Rosen Centre Hotel in Orlando, Florida—ends today at midnight, Mountain Time. (It's actually 11:59 p.m., but we'll give you the extra minute in case you are a procrastinator.) By taking advantage of this rate, you'll save $30 per person over the next-available rate, which begins tomorrow.
Still deciding whether or not to attend this educational and inspiring annual event? You can check out the early-bird brochure online, or look for a copy in the center of the November/December issue of Rescue magazine.
The only way to get the early-bird rate is to register is online.
David Treadwell honored at the White House
David O. Treadwell, executive director of Central Union Mission (Washington, D.C.) and outgoing chair of AGRM's board, was honored as a Champion of Change at the White House this morning. The award was given to 10 nonprofit leaders, community activists, and mentors who have taken great strides to improve the lives of others through charitable work, faith, and advocacy. Under Dave's leadership since 1998, Central Union Mission has continued at full capacity, and last year distributed more than 400,000 bags of grocers and served 150,000 meals to people in need. Congratulations, Dave and Central Union Mission team!
Denver Mattress Company's matching campaign benefits 63 missions
Denver Mattress Company and AGRM are pleased to announce that their charity campaign this holiday season raised $266,512 for those in need. During November 11–24, Denver Mattress Company pledged to match every dollar donated to 63 participating rescue missions, with a $2,500 cap per market. In all, $116,512 donations were made, and there was a large increase in individual organizations meeting their match goals. Although the missions did not reach the original cap of $150,000 that Denver Mattress pledged to match, the company generously donated the entire amount to the participating missions.
Two rescue missions face complaints regarding service/companion animals
The Intermountain Fair Housing Council (IFHC) has filed housing discrimination complaints against two rescue missions in Idaho, accusing them of not accommodating "service/companion" animals in their shelter programs, which they claim violates the Fair Housing Act (FHA). You might remember that the IFHC is the same organization that spent nearly $1 million in taxpayer money to bring an unsuccessful lawsuit against the Boise Rescue Mission (Boise, Idaho). In the end, the events in Idaho are less about service/companion animals and more about the fundamental difference in how entities interpret the FHA. The IFHC, Ninth Circuit Court of Appeals, and other activists have reinterpreted the scope of the FHA to apply to shelters. Rescue missions and other courts do not share that view. If you believe you have received probing questions designed to test your shelter's FHA compliance, please contact AGRM Government Liaison Rhett Butler, immediately. He will help direct you to the necessary legal information.
Ashmen signs another letter to President Obama
Regulations adopted this past summer for health insurance plans require essentially all plans to cover a wide range of "preventive services," including contraceptives, sterilization, and related education and counseling. Among the contraceptives that must be offered free of charge are some that are arguably abortifacients. Insurance plans must include this coverage beginning with plan years starting August 1, 2012. The regulations include a narrow exemption for "religious employers" that essentially exempts only churches—not parachurch organizations (like many rescue missions).This morning, AGRM President John Ashmen added his name to a letter going to President Obama, protesting the mandate, the current exemption, and the prospect of an exemption that will not protect many parachurch organizations. If you feel strongly about this, you should contact your senators and representative and express your concerns about the mandate and the limited exemption. Consider asking them to co-sponsor or vote in favor of the Respect for Rights of Conscience Act of 2011, H.R. 1179 (Fortenberry)/S. 1467 (Blunt), which seeks to deal with this and other conscience/religious freedom concerns in the health reform law. For more information, contact AGRM Government Liaison Rhett Butler.
Election results are in
Last night marked the end of voting for district officers and board members who will begin three-year terms on January 1. Candidates were notified of the results this morning. Election results will be posted on the AGRM website tomorrow.
AGRM staff member says 'I do'
Congratulations to Amy Chen, AGRM's data and distribution manager. She recently wed Bryan Thomas in a beautiful ceremony in Colorado Springs. Bryan works in the facilities department at Focus on the Family, where he has been on staff for 15 years. Regarding email, for now, both achen@agrm.org and athomas@agrm.org will get to Amy.
Important reminders about upcoming events
End of 2011 provides opportunities to give
It's that time of year when the focus is on giving. If you made a faith promise at the AGRM convention last May, you still have time to fulfill your commitment before the end of the year! The association recently sent notifications by email that show how much you or your mission/organization promised in faith, and how much has been given through the end of November. You are welcome to donate by check, or log in here to donate by credit card. You can also log in to make a year-end donation to AGRM's general operations or expansion funds. Thank you for your faithful and generous support to AGRM!

AGRM's Vocational Education Professional Network group offers training
The first annual Vocational Education Professional Network conference will be held January 23–25, 2012, at Haven of Rest Ministries (Akron, Ohio). This conference is for anyone who works in mission learning centers, helping men or women in the areas of education and job readiness. The cost is $130 per person, and the fee includes all conference materials, workshops, and all meals except for breakfast. Attendees are responsible for making their own lodging reservations. For additional information, visit the Haven of Rest Ministries website [www.havenofrest.org] and choose Events, or contact L.J. Dalton, affinity group leader, at (330) 535-1563 or via email.

ACTS annual workshop will be held in Pensacola
AGRM supporting organization the Association of Christian Thrift Stores (ACTS) will hold its annual workshop January 9–11, 2012, at the Hilton Garden Inn Pensacola Airport/Medical Center in Pensacola, Florida. The annual event will feature music and devotional speakers, a thrift store tour, as well as eight workshops covering store start-ups, operation, management, production, marketing, advertising, sales, and customer relations. The event promises to be a great time of fellowship and learning from each other and a time to be challenged and refreshed. For more information and to register, visit the ACTS website.
Looking down the street…
Dave Honey, director of guest services at Good News Rescue Mission (Redding, Calif.) is releasing a new book tomorrow titled Revelation, for Such a Time as This. Dave also serves as the associate pastor at Anderson Community Church in Anderson, California.

Mark Criss, director of City Rescue Mission (Lansing, Mich.) spent five days in November living among the men he serves—staying at the mission's homeless shelter and living on the streets of the city during the day. Mark started the week without any money, and had to find a way to pay for a bus pass and figure out how to spend time during the day, when many shelters are closed. He said that the experience gave him a unique glimpse into the lives of the homeless in Lansing.

Be praying for Rockford Rescue Mission (Rockford, Ill.). A man injured three people at the mission when he drove a car into the crowd waiting for free holiday toys at the mission. The injuries were not life-threatening, but the driver was charged with attempted first-degree murder, DUI, and other charges. Executive Director Sherry Pitney says, "Thanks for the prayers and support.".
back to top

Homeless children testify at House hearing
In a rare event, members of Congress heard from homeless youth today during a House Financial Services Subcommittee hearing on the Homeless Children and Youth Act of 2011. Several homeless children were among the witnesses at the hearing, chaired by Rep. Judy Biggert (R-IL), which examined the impact of the McKinney-Vento Homeless Assistance Act of 1987; some critics allege that this act makes it difficult for homeless children to receive housing assistance. For more information, click here for a C-Span report.
Businesses increase tie-ins with charities
The concept of linking sales to charitable contributions is a growing phenomenon, and it's especially active during the holiday season. According to a Tennessean report, examples range from Subaru's "Share the Love" promotion in which the automaker and its dealers donate to a charity for each new vehicle sold, to "Food Truck Tuesday" at Nashville's Second Harvest Food Bank, where 10 percent of lunchtime proceeds help feed the area's needy. One ad executive noted, "The biggest brands in the world are trying to act small, and charitable causes create a venue for that." Some observers, however, say linking holiday marketing campaigns to charitable causes can backfire if the appeal comes across as insincere. Advertising experts say that a consumer's trust is very fragile, and if a campaign is carried out the wrong way, it can leave a negative impression.
Crystal Cathedral purchase 'a sweet deal' for local Catholic diocese
Even in a depressed real estate market, the Roman Catholic Diocese of Orange negotiated a great deal when it purchased the Crystal Cathedral, longtime home to Robert Schuller's "Hour of Power" TV broadcasts. According to a USA Today report, the local diocese is not only getting a national landmark designed by the renowned architect Philip Johnson, but it also wasn't the highest bidder: Schuller and the board of the Protestant megachurch opted to take the diocese's $57.5 million offer over a $59 million pitch from Chapman University because the Catholic group will keep the campus as a place of worship. The sale will be final December 31. The diocese plans to launch a major fundraising effort that could total $100 million, and would entail the sale of other property in order to cover the purchase price, as well as several million more that will be needed for renovations and hefty maintenance costs.
back to top

As many as half of Americans face poverty
Squeezed by rising living costs, a record number of Americans—nearly 1 in 2—have fallen into poverty or are scraping by on earnings that classify them as low income. According to a Boston Globe report, the latest census findings depict a middle class that's shrinking as unemployment stays high and government programs to help those in poverty face potential cuts. The new numbers follow years of stagnant wages for the middle class that have hurt millions of workers and families. As part of the report, mayors in 29 cities stated more than 1 in 4 people needing emergency food assistance did not receive it. Many middle-class Americans are dropping below the low-income threshold—roughly $45,000 for a family of four—because of pay cuts, a forced reduction of work hours, or a spouse losing a job. Housing and child-care costs are consuming up to half of a family's income.
Nearly 1 in 5 U.S. women say they have been sexually assaulted
An exhaustive government survey of rape and domestic violence released on Wednesday affirmed that sexual violence against women remains endemic in the United States and in some instances may be far more common than previously thought. According to a New York Times report, nearly 1 in 5 women surveyed said they had been raped or had experienced an attempted rape at some point, and 1 in 4 reported having been beaten by an intimate partner. One in 6 women have been stalked, according to the report. Researchers found that sexual violence affects women disproportionately. One-third of women said they had been victims of a rape, beating, or stalking, or a combination of assaults. The researchers defined rape as completed forced penetration, forced penetration facilitated by drugs or alcohol, or attempted forced penetration. By that definition, 1 percent of women surveyed reported being raped in the previous year, a figure that suggests that 1.3 million American women annually may be victims of rape or attempted rape.
High school seniors increase use of fake pot
Synthetic drugs once touted as legal alternatives to marijuana have gained a foothold among teenagers, with 1 out of 9 high school seniors saying they've used so-called synthetic pot in the previous year. According to a Minneapolis Star-Tribune report, the study, released yesterday by the National Institutes of Health, is believed to be the first government attempt to survey the popularity of synthetic substances often marketed as "herbal incense" and sold under brands such as "Spice" and "K2." Senior students with the highest rate of use—13.5 percent—were from the Midwest. The survey, based on responses from 47,000 students in grades 8, 10, and 12, did offer a glimpse of good news, showing that alcohol and cigarette use are at an all-time low since the survey began 37 years ago. Fake pot was the second-most frequently used illegal drug behind natural marijuana, which 36.4 percent of seniors reported using in the same time period.
back to top

Special Delivery
Looking for a simple but effective way to connect with the people around your mission? Safe Harbor Rescue Mission (Hickory, N.C.) has a special "mailbox" on the corner of their property. Folks from the neighborhood—whether they are homeless or in a more-than-comfortable home or somewhere in between—can place prayer requests in the mailbox, and staff and volunteers at the mission spend time in prayer over the request.

back to top

Grand Rapids, Michigan: Vice President of Operations—Mel Trotter Ministries, a faith-based ministry, is looking for a person to fill the position of vice president of operations. The job consists of but is not limited to: Primarily responsible to provide leadership for all programs to clients and community: shelter, spiritual development, clinical, counseling, and benevolence. The CPO develops policies and procedures, directs staff, and establishes budgets. Evaluate ministry needs. Cultivate relationships with outside organizations and agencies to meet those needs. Qualifications: Strong administrative skills are necessary, supported by a minimum of three years' experience in ministry as a director/supervisor. Candidates with skills in program development are encouraged to apply. Must exhibit and be able to effectively train in conflict resolution. An advanced degree in divinity or social work is favorable. Applicants may respond by fax to (616) 454-5255; mail to Mel Trotter Ministries, 225 Commerce Avenue SW, Grand Rapids, MI, 49503, attention HR; or via email.
Oxnard, California: Foundations Resource Officer—Rescue Mission Alliance, a Christian nonprofit, is seeking a foundation resource officer who will be responsible for identification, solicitation, negotiation, acquisition, management, and reporting of grants from private and corporate foundations in support of our six outreach programs. Must be a committed Christian in good standing in a local church; B.A. in development, public relations, communications, or a related field; two years' experience in a professional-level related position; valid California driver's license; excellent written and verbal communication; ability to manage multiple projects and deadlines; willingness to work a flexible schedule and with a variety of internal and external groups; proficient in Microsoft Office software, grant research resources, and Raiser's Edge software. Please email a cover letter and résumé, or fax to (805) 385-4126 with a cover page indicating the position you are applying for. Added 12/1/2011
Phoenix, Arizona: Program Director—This position is responsible for the development and oversight of all programs and operations of the Changing Lives Center and other potential related programs and program industry. Consistent with Phoenix Rescue Mission quality standards, position will develop and direct residential recovery, and transitional programs through the involvement of staff, volunteers, as well as social and auxiliary services. See the mission's website for a complete job description and information on applying. Added 12/1/2011
Reno, Nevada: Chaplain—Reno-Sparks Gospel Mission is seeking a full-time chaplain to serve as mentor, teacher, and counselor for a 100-bed co-ed recovery program. Email inquiries to Rick Redding. Added 12/1/2011
Joliet, Illinois: Men's Program Director—Bachelor's degree and minimum three years' experience in counseling and/or shelter program. Competitive salary, health insurance, 403b, and other benefits. To apply or for more information, contact MorningStar Mission Ministries, Inc., 350 E. Washington St., Joliet, IL 60433; fax: (815) 726-9450; or contact via email. Added 12/1/2011
Phoenix, Arizona: Chief Development Officer—Position summary: To increase financial support, community awareness, understanding, perception, and involvement of Phoenix Rescue Mission. Design, implement, and actively participate in fundraising programs for major gifts, planned giving, capital campaigns, direct mail, and special events. Maximize the full potential of public relations and media contacts for the benefit of the mission. Maintain knowledge of the mission's programs, services, financial needs, strategy, and governance. See the mission's website for a complete job description and information on applying. Added 12/1/2011
Tucson, Arizona: Director for Men's Center—The Gospel Rescue Mission of Tucson, a 58-year-old mission, is currently seeking a Director for the Men's Center with a minimum of seven years' experience with shelter and recovery programs. The ideal candidate will be able to demonstrate very strong management skills, as well as experience with a Genesis Recovery Program in a grace-based culture and a related undergraduate or graduate degree. Ministry overview at the mission's website. Competitive salary, health insurance, and retirement benefits. Please submit résumé by email to Human Resource Manager Erin Jaurigue and to Director of Programs Steve Trost. Added 11/15/2011
Colorado Springs, Colorado: Supportive Family Services Director—Springs Rescue Mission, Colorado Springs, Colorado, is seeking a Supportive Family Services Director to lead and develop new family ministry program. Details available at the mission's website. Added 11/15/2011
Sioux City, Iowa: Chaplain—The Gospel Mission has an opening for a full- or part-time chaplain. Email inquiries to Harold Youtzy Jr. Added 11/15/2011
North Hollywood, California: Director, San Fernando Valley Rescue Mission—The Rescue Mission Alliance (RMA) is a Christian nonprofit organization that has been serving the less-fortunate in Southern California through emergency and long-term rehabilitation services for more than 39 years. RMA partners with local churches to meet the spiritual needs of the people we serve. The San Fernando Valley Rescue Mission (SFVRM) is a vital part of RMA that offers emergency shelter and homeless outreach to families, as well as a men's drug and alcohol recovery program. The Director will launch programs and staffing for our new 12,000-sqaure-foot resident Family Shelter and a Men's Addiction Recovery program, as well as direct the existing shelter and ministry for homeless families and homeless individuals in the community. This is a full-time, exempt position located at the San Fernando Valley Rescue Mission in North Hollywood, California. Compensation is commensurate with skills and experience, and includes benefits. This position will oversee a growing ministry to the hungry, homeless, and addicted in the San Fernando Valley. It will involve communicating to individuals, churches, civic groups, and other organizations to solicit financial and volunteer support, and educate the community regarding our ministry. Desired qualifications include a bachelor's degree in a related field plus a minimum of five years of ministry, management, and nonprofit experience. Must be a committed Christian with exemplary character and a proven ability to lead, initiate, problem-solve, disciple, and pray for clients. Strong writing, computer, and administrative skills are a must. Please email your cover letter and résumé, or fax them to (805) 385-4126 with a cover page indicating the position you are interested in applying for. If you submit your information through the mission's website, you will receive an email confirming it was received. The mission is unable to send confirmation that faxes were received. No phone calls, please. Please visit the mission's website to view all current employment opportunities. Added 11/15/2011

To advertise in future Market Street Classifieds:

Members of AGRM can place a 30-word classified ad listing available positions in two consecutive issues of Street Smart at no charge; additional words will be charged at 50 cents per word. Non-members can place an ad for $25 per issue for a 30-word ad; additional words will be charged at 50 cents per word. AGRM members can renew ads after the second placement at $15 per issue for a 30-word ad. Ads are also placed on the AGRM website. Members can also sponsor Street Smart for $350 per issue. Email desired ad placement to Brad Lewis (subject line: Street Smart advertising). Ads are subject to editing to conform to Street Smart style, and AGRM reserves the right to reject any ads or sponsorships it deems inappropriate for members. All ads are due one week before issue date.
back to top

The Greatest Gift
The first Christmas, the greatest gift of all was given: "For God so loved the world, that He gave His one and only Son" (John 3:16).
While Christ was still a babe, the wise men opened their treasures and presented Him with gifts of gold, frankincense, and myrrh.
Down through the centuries, Christians have continued to honor God's gift by sharing His love with others. Not just at Christmas, but throughout the year, we demonstrate our care and compassion through the giving of gifts. Those of us who serve at rescue missions know it's a privilege to give of ourselves to help the men and women and children who are hurting, hungry, and homeless. God uses us to demonstrate His love and kindness—sharing His gift with those we serve.
May you be truly blessed as we celebrate His birth.
Contributed by Ron Gonzales, executive director of New Orleans Mission (New Orleans, La.). Reprinted with permission from the Heart of the City newsletter.
To contribute: If you would like to write a devotional thought for "Street Light," please make it about 200 words and include at least one Bible verse or passage, and submit via email.

back to top
Is something unique and exciting going on at your mission? Share your news with fellow AGRM members by emailing items for "Our Street" to Brad Lewis.

AGRM is a nonprofit organization committed to furthering rescue missions. AGRM provides limited space in "Market Street" for advertising opportunities, services, and products to advance the cause of rescue missions. AGRM is not responsible for the claims made by its advertisers and reserves the right to select or reject any advertising, in the sole discretion of AGRM, for any or no reason.

PRIVACY: Protecting your privacy is very important to us at AGRM. We will not rent, sell, or exchange your e-mail address with a third party for any purpose.

All Scripture quotations taken from the HOLY BIBLE, NEW INTERNATIONAL VERSION, unless otherwise noted. Copyright © 1973, 1978, 1984 International Bible Society. Used by permission of Zondervan Bible Publishers.

Street Smart is sent to you as a member service of AGRM. The content does not necessarily represent the views of or imply endorsement by AGRM. To submit items for publication, e-mail editor@agrm.org. To unsubscribe, email unsubscribe@agrm.org.
| | | |
| --- | --- | --- |
| Gifts in Kind International | Merriam Insurance | Dollar Days International, Inc. |
| | | |
| | | | |
| --- | --- | --- | --- |
| Trinity/HPSI | Envoy Financial | ECFA | CVLI |
| | | | |
Please support AGRM's contract service partners. They have created specially priced products and services exclusively for AGRM members.

---