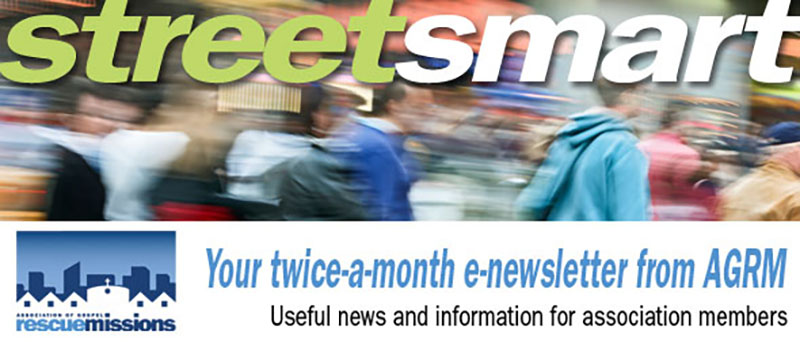 Volume 11 Number 11 | June 1, 2017 | www.agrm.org
This issue of Street Smart is sponsored by:
Howdy Y'all from Dallas!
This special edition of Street Smart is coming to you right from the heart of AGRM's 2017 Annual Convention in Dallas—one of the largest conventions AGRM has ever had.

If you didn't get to attend the convention this year, we miss you! But you can still follow along with what's going on via the convention app. Just go to the Play Store for Android devices or the App Store for your Apple device and search for the Whova app. Once you've installed it, follow the instructions and enter the following invitation code to join the event: AGRM2017.

On the app, you can view the event schedule, check out photos from attendees, read comments from folks attending the convention, and much more.


What Is Awesome at the Convention?
Via the convention app, we asked attendees "What do you love about this year's convention so far?" Here is a sampling of their answers:

I have enjoyed prayer time, coming together and being in one accord praying for one another. Making sure that every ministry and every aspect of the AGRM is covered in prayer. In order to get the work of the ministry and mission done, they must be covered in prayer. It is the only effective tool we have by which we are able to change things to the Glory of God, our Father.

Warene Coney, Volunteer Center Coordinator, The Healing Place of Texarkana (Texarkana, Texas)


Everywhere I walked in the Exhibit Hall, I saw people pausing to pray for one another. It seems to sum up gospel rescue missions: In the middle of busy crowds doing work, one person reaches out to another with a gentle touch and earnest prayer.
Greg Jao, Convention Speaker; Senior Assistant to the President & Director of Executive Office Communications & External Relations, InterVarsity Christian Fellowship


The AGRM convention is unique in that it provides more than information and networking. It creates lifelong bonds. There is no other conference I have been to where everyone can relate to the joys, struggles, and challenges we face in our ministries.
Sarah Ardis, Director of Development, Shreveport Bossier Rescue Mission (Shreveport, Louisiana)


AGRM's 2017 Convention has already inspired and uplifted me in so many ways. Reconnecting with friends from past years and meeting new friends, hearing God's message through the keynote speaker this afternoon, and engaging in great conversations about the vital work we all do that helps so many—and livestock in the Exhibit Hall to boot! Thanks, AGRM, for another awesome convention experience.
Anne Dunnenberger, Director of Outreach, Bridge of Hope (Exton, Pennsylvania)


I am not one who normally hugs, but I receive more love at the AGRM convention than any other place I know. Friends who are the mouth, ears and arms of Christ are here and I am grateful to be with them, for by doing so, I am reminded of the love that Jesus demonstrates.
Brian Merriam, President, Merriam Insurance Agency (Schenectady, New York)


The beauty of the AGRM conference is seeing the generations of God's faithfulness to His people. Each conversation I've had helps me see the magnitude of God's love for us.
Matthew Kunkel, Program Manager, Wheeler Mission Ministries (Indianapolis, Indiana)


The AGRM Convention is better than a 5-Hour energy drink. It recharges your passions for those who hurting and lost right when it's needed most.
Denny Bender, Executive Director, Union Rescue Mission of Wichita (Wichita, Kansas)


Our team of five from central California are all first-timers and are extremely encouraged by the connections we've already been making. It's so rewarding just to know we're not alone and that we have much to learn from one another.
Ryan Stillwater, Director of Development, Visalia Rescue Mission (Visalia, California)






AGRM Member Benefit: Districts


AGRM has always been a grassroots organization, and the best way to connect on a geographic level with other member missions is through your district. It's challenging for AGRM as a whole to develop programs and services that meet all the needs of individual missions when needs can vary greatly by region. But districts can focus on localized issues and deliver educational content and networking opportunities that are close to home. AGRM's nine districts will all be meeting this fall.

To learn more about your district's conference and officers, read discussions, or to see a list of members in your district, visit www.agrm.org/districts.

Homeless Men Become Heroes After Manchester Bombing
Chris Parker came to Manchester Arena as an anonymous beggar, positioning himself near the crowd of exiting Ariana Grande fans in hopes that he might pocket some spare change. But that night, the 33-year-old homeless man became a hero and a symbol of hope following an explosion, reports the Washington Post. Authorities say 22 people were killed by the blast, and another 59 were injured, many gravely.

"It knocked me to the floor and then I got up and instead of running away my gut instinct was to run back and try and help," he told the Press Association. "There was people lying on the floor everywhere. He says is haunted by what he saw that night. "It's the screams I can't get over, and the smell." Parker also tried to comfort a wounded woman. "She passed away in my arms," he said. "I haven't stopped crying."

Reports say that Parker was not the only homeless man who rushed to the aid of the injured. Stephen Jones had been sleeping outside the arena before the blast. He first thought the loud bang was a firework until he saw women and children stumbling out of the venue screaming, their bodies covered in blood.

"There was a lot of homeless people that stayed there and helped," Jones said. "And obviously when we seen children like that with blood…If I didn't help I wouldn't be able to live with myself, walking away and leaving kids like that." In an ITV News interview, Jones explained, "Just because I'm homeless, it doesn't mean I haven't got a heart," he said. "There's a lot of good people in Manchester who help us out and we need to give back too."


Ag Department Changes School Lunch Guidelines
Agriculture Secretary Sonny Perdue signed an order that relaxes the nutritional guidelines for school lunches starting next school year, the Clinton Herald reports. He claims food that is appetizing won't go to waste. He is supported by the School Nutrition Association, a group that represents school nutrition directors and companies that sell food to schools.

However, health advocates object to the change, along with former first lady Michelle Obama, who championed stricter nutritional standards for school lunches to combat child obesity.

Schools are required to follow government nutrition rules if they accept federal reimbursements to provide free and reduced-price meals to low-income students. According to the U. S. Department of Agriculture, about a million fewer school lunches are bought annually under the stricter nutritional rules, resulting in a loss of revenue to school districts. The department also estimated in 2015 the cost of the higher nutrition food to states and local governments increased by $1.22 billion per year.


Legalized Marijuana Turns Colorado Resort Town into Panhandler Magnet
Durango, Colorado, a picturesque town near the New Mexico border, was a vibrant, upscale community dotted with luxury hotels but is now being overrun by panhandlers. Fox News reports hat following the legalization of marijuana in Colorado, the town became a haven for recreational pot users, drawing in transients, panhandlers and a large number of homeless drug addicts, according to officials and business owners.

One gift shop manager says the panhandling issue has gotten out of hand. He says, "The problem is, while many are pretty mellow, there are many more who are violent." He often has to kick out vagrants who loiter in front of his store. He said he's also noticed an uptick in crime in the area. Shoplifting has become a major problem in Durango—which relies heavily on tourism income—and business owners are angry.

Meanwhile, police patrols are almost absent. With a department of 50 officers and only five per shift who cover 20 square miles, the challenge is daunting, the new police chief explains, and the property crime rate is 12 percent higher than the national average.



Increased Tick Population Also Brings Dangerous New Virus
With outdoor season upon us, scientists are warning about a rare tick-borne disease called Powassan, CNN reports. This potentially life-threatening virus is carried and transmitted by three types of ticks, including the deer tick that transmits Lyme disease.

Over the past decade, 75 cases have been reported in the northeastern states and the Great Lakes region, according to the U.S. Centers for Disease Control and Prevention. However, recent warmer winters have led to an increased tick population, so experts predict rising tick-borne infections of many types. Scientists also believe Powassan is on the rise based on studies that have identified an increasing number of infections in deer. Similarly, Lyme is showing increasing numbers.

Powassan is a serious disease—about 15 percent of infected patients will not survive. Of those who do, at least half will have long-term neurological damage. There are no vaccines to prevent infection, and there is no cure. The best way to prevent tick bites is by avoiding high brushy areas whenever you're in the woods, wearing long sleeves and pants when feasible, using insect repellent and doing tick checks after being outdoors.


Alcohol Use Increases Breast Cancer Risk
Just one glass of wine or other alcoholic drink a day significantly raises the risk of breast cancer, while vigorous exercise such as running and bicycling reduces it, according to an expansive review of research on the effects of diet, nutrition and physical activity on the disease. The Washington Post reports that the study concluded that drinking the equivalent of one small glass of wine, beer, or other alcohol a day—about 10 grams of alcohol—is linked to an increased cancer risk of 5 percent for pre-menopausal women and 9 percent for post-menopausal women. A standard drink has 14 grams of alcohol.

The report suggests that no level of alcohol use is completely safe in terms of breast cancer. The report also found limited evidence linking dairy foods, diets high in calcium and foods containing carotenoids to a lower risk of some breast cancers. Carotenoids include such fruits and vegetables as kale, apricots and carrots.

About 252,000 women in the United States are expected to be diagnosed with breast cancer this year. AICR estimates that 1 in 3 cases could be prevented if women did not drink alcohol, were physically active, and maintained a healthy weight.


Simply Seeing Someone Use Cocaine Can Cause a Craving
People who use cocaine "recreationally" may be closer to becoming addicted than they think, according to a new study, The Guardian reports. Even among non-dependent cocaine users, visual cues associated with consumption of the illicit drug lead to dopamine release in an area of the brain responsible for cravings, according to research published in the medical journal Scientific Reports.

Dopamine is a chemical that causes people to seek pleasurable activities, and researchers have known for years that cocaine use triggers the release of the neurotransmitter. The research suggests that using cocaine just once may cause an addiction. And n people with addictions, visual cues—such as seeing someone using cocaine—are often enough to trigger dopamine release.




The Cost of the Cross
And he said to all, "If anyone would come after me, let him deny himself and take up his cross daily and follow me. For whoever would save his life will lose it, but whoever loses his life for my sake will save it. For what does it profit a man if he gains the whole world and loses or forfeits himself? (Luke 9:23–25 ESV).


Living well comes at a great cost, but so does living poorly. There is a price to pay and a sacrifice to be made for every decision in life. These costs vary, from something as mundane as a speeding ticket, to something as great as the loss of friends or familial ties.

Following Jesus is costly. In fact, that word falls short to describe the depth of sacrifice required in walking after him. Taking up a "cross" would not have been the sanitized allegory to Jesus' original hearers that it can be to us today. The cross took everything from men. It was a torturous end to human life. It was not meant to merely punish, but to kill.

In fact, the legacy of the cross lives on even in our language, as the word excruciating literally means "from the cross"; a pain so intense, a loss so tremendous, it had to be associated with the worst death a human could die. There is a reality here we must rediscover; following Jesus Christ means death. And though death costs much, it is the price of eternal life. Save your life and follow Jesus today.

I appeal to you therefore, brothers, by the mercies of God, to present your bodies as a living sacrifice, holy and acceptable to God, which is your spiritual worship. Do not be conformed to this world, but be transformed by the renewal of your mind, that by testing you may discern what is the will of God, what is good and acceptable and perfect (Romans 12:1–2 ESV).

Used with permission from Daily Devotionals, www.shortdailydevotions.com.

To contribute: If you would like to write a devotional thought for StreetLight, please make it about 200 words and include at least one Bible verse or passage, and submit via email.

AGRM is a nonprofit organization committed to furthering rescue missions. AGRM provides limited space in "Market Street" for advertising opportunities, services, and products to advance the cause of rescue missions. AGRM is not responsible for the claims made by its advertisers and reserves the right to select or reject any advertising, in the sole discretion of AGRM, for any or no reason.
PRIVACY: Protecting your privacy is very important to us at AGRM. We will not rent, sell, or exchange your e-mail address with a third party for any purpose.
All Scripture quotations taken from the HOLY BIBLE, NEW INTERNATIONAL VERSION, unless otherwise noted. Copyright © 1973, 1978, 1984 International Bible Society. Used by permission of Zondervan Bible Publishers.
Street Smart is sent to you as a member service of AGRM, and is published on the 1st and 15th of each month (unless those dates fall on a weekend or holiday). The content does not necessarily represent the views of or imply endorsement by AGRM. To submit items for publication, e-mail editor@agrm.org. To unsubscribe, email unsubscribe@agrm.org.